21 inspirational quotes may be just what you need. Sometimes all we need is a little motivation. To help our readers find their inspiration, we've compiled 21 of our favorite inspirational career quotes.
The first of our 21 inspirational career quotes comes from the 26th president of the United States, Theodore Roosevelt. We love this quote because it reminds us that belief in oneself is the first step to success. If you don't believe in yourself, how can anyone else?
Quote #2: "Start by doing what is necessary, then what is possible, and suddenly you are doing the impossible."
Francis of Assisi reminds us that we must push forward when our goals seem out of reach. Before long, we will have accomplished what we first thought impossible and much more.
Quote #3: "Opportunities don't happen, you create them."
You possess the power to succeed. Sitting back, hoping and waiting for things to happen, won't get you where you want to go. You must take action.
Quote #4: "Life shrinks or expands in proportion to one's courage."
You are not doomed to suffer through a painful career. No matter your background or experience. You have the power to sculpt your dream job. But in order to make that happen, you must first have courage.
Quote #5: "The future belongs to those who believe in the beauty of their dreams."
Do you believe?
Quote #6: "Nothing will work unless you do."
Put the work in and great things will happen.
If you're ready to put the work in and reap the rewards, check out our Right Fit Career Course. By the time you're finished, you'll be in a fulfilling career and you'll also have the blueprint that guides your professional development and helps you make the best future career decisions for many years to come.
Quote #7: "I was always looking outside myself for strength and confidence, but it comes from within. It is there all the time."
You have what it takes to succeed.
Quote #8: "If opportunity doesn't knock, build a door."
When was the last time you felt fulfillment, joy, and excitement about your career? If you have to take a minute to think about it, or if you can't think of a time, then it's time to build a door.
Quote #9: "The only way to do great work is to love what you do. If you haven't found it yet, keep looking. Don't settle."
Do you love what you do? If not, why are you doing it? You don't have to settle for a career that doesn't bring you joy. Remember, life is short. Don't waste time in the wrong career.
Quote #10: "A creative man is motivated by the desire to achieve, not by the desire to beat others."
Don't waste energy focusing on others. Instead, put that energy into yourself.
Quote #11: "The most common way people give up their power is by thinking they don't have any."
Don't give up your power, it is one of the most valuable things you have.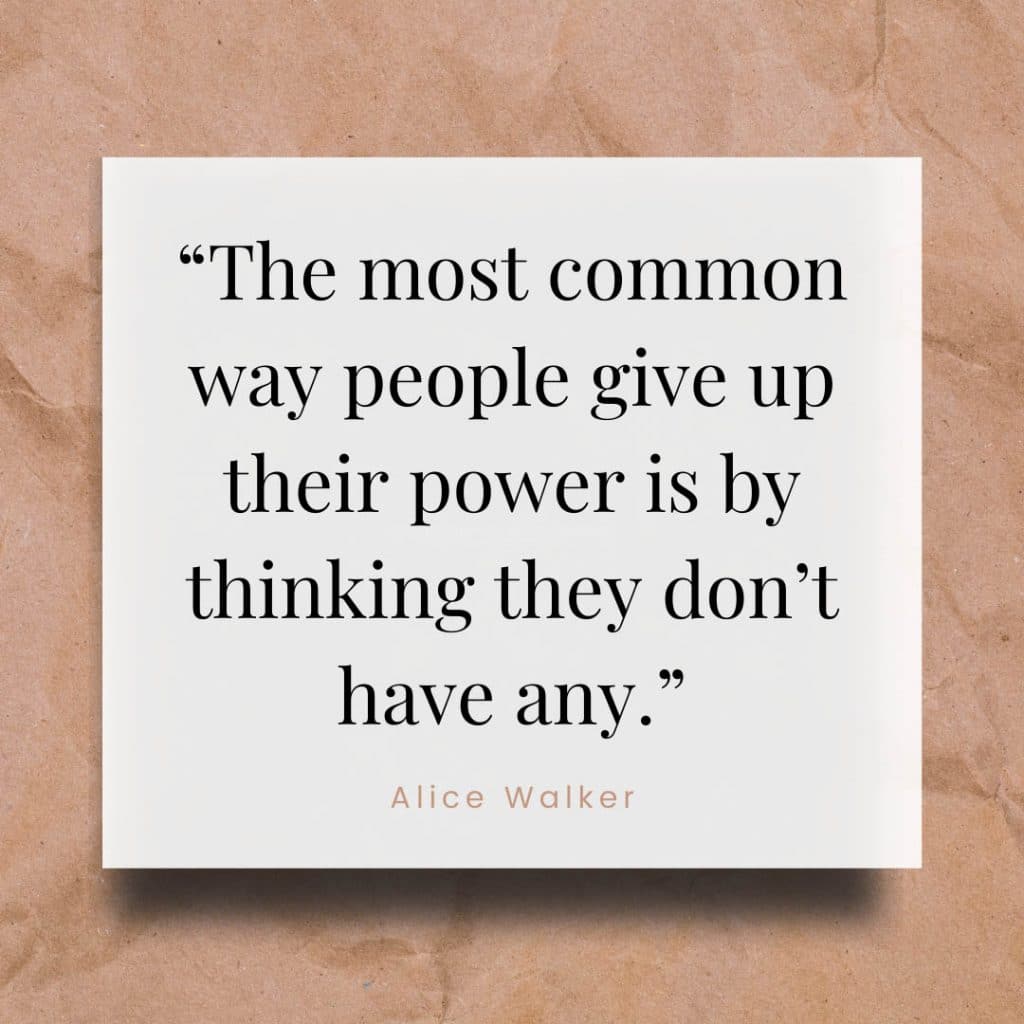 Quote #12: "The future depends on what you do today."
What will you do today in order to reap the rewards tomorrow?
Quote #13: "Build your own dreams, or someone else will hire you to build theirs."
This one speaks for itself.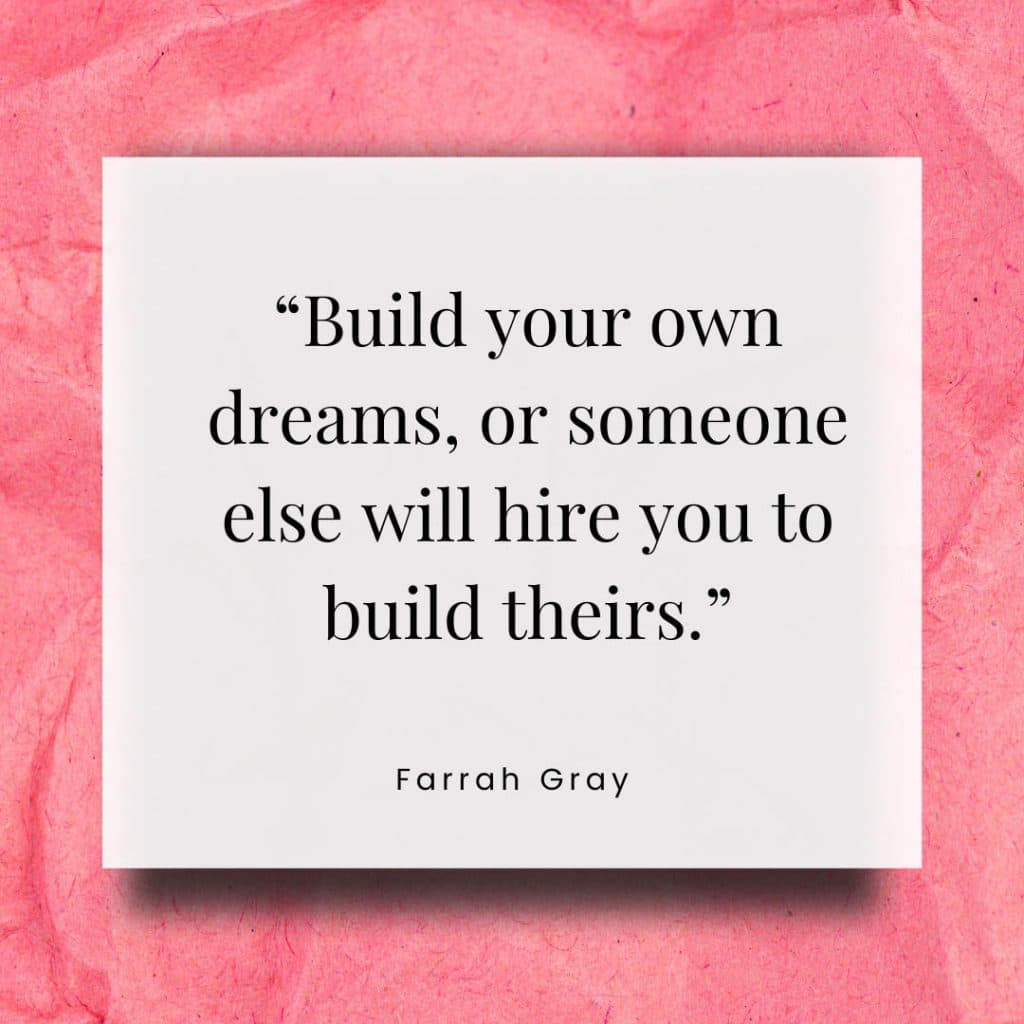 Quote #14: "If you hear a voice within you say, 'You cannot paint,' then by all means paint and that voice will be silenced."
Self-doubt is dangerous. Silence those negative voices and prove them wrong!
Quote #15: "Find out what you like doing best, and get someone to pay you for it."
Superb advice from Katharine Whitehorn!
Quote #16: "Everything you've ever wanted is on the other side of fear."
Push through the fear and realize all that you are capable of.
Quote #17: "You only live once, but if you do it right, once is enough."
It's never too late to do it right. If you're in a career that leaves you feeling passionless, uninspired, or bored, you have the power to change that.
Quote #18: "Whether you think you can or you think you can't, your right."
Don't be your own worst enemy. Remember, if you don't believe in yourself, how can you expect other to believe in you?
Quote #19: "It is never too late to be what you might have been."
Never. Too. Late.
Quote #20: "Push harder than yesterday if you want a different tomorrow."
Do you want a different tomorrow? You'll have to work for it. But it will be so worth it!
Quote #21: "The secret of getting ahead is getting started."
Want more motivational quotes? Connect with us on Instagram, Twitter, Facebook, and LinkedIn where we share plenty of inspiring quotes, career tips, motivational videos, and much more.
---